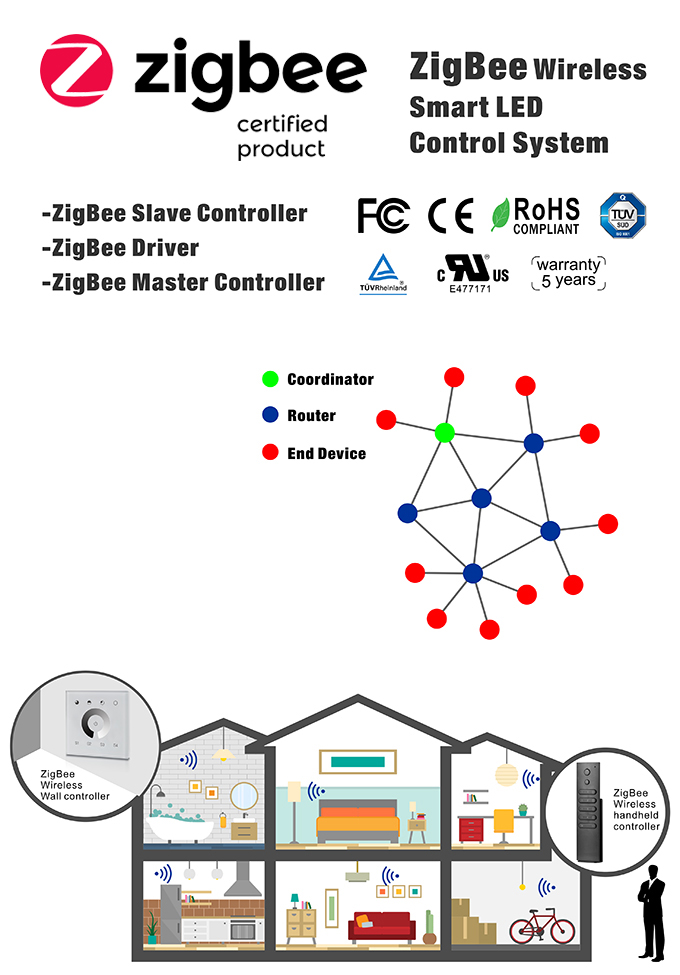 Sunricher is a ZigBee Alliance member who provides professional ZigBee lighting control solutions and products that are ZigBee 3.0 certified, which ensures full interoperability of its products with other manufacturers' that are based on the same standard and ZigBee certified.
Click zigbee 3.0 Certified Products List from zigbee official website to see all our zigbee 3.0 certified products.
Zigbee is a wireless control solution for smart home and home automation based on 2.4GHz frequency band according to IEEE 802.15.4. It enables to control all home appliances, lighting devices, door lock, blinds or shutter, thermostats, smoke detector etc.
Sunricher ZigBee products are now upgraded to the latest ZigBee 3.0 protocol which has unified ZigBee HA (Home Automation) profile and ZigBee LL (Light Link) profile. The most important new features of ZigBee 3.0 are touchlink commissioning that enables lighting devices to pair to a remote without a coordinator and green power technology. ZigBee 3.0 standard enables communication and interoperability among devices for smart homes, connected lighting, and other markets so more diverse, fully interoperable solutions can be delivered by product developers and service providers.
Sunricher is dedicated to zigbee lighting control to enable wireless smart home lighting. We offer Zigbee coordinator (gateway) and Zigbee end devices including Zigbee remotes and Zigbee LED dimmers. Sunricher Zigbee LED controllers are designed in compliance with Zigbee mesh technology which enables wireless control from smart phone or internet. and the Zigbee lighting devices are available in single color Zigbee LED dimmer, dual color Zigbee LED controller, RGB/RGBW Zigbee LED controller. Plus various Zigbee remote controls are available to pair to Zigbee network and control these devices.