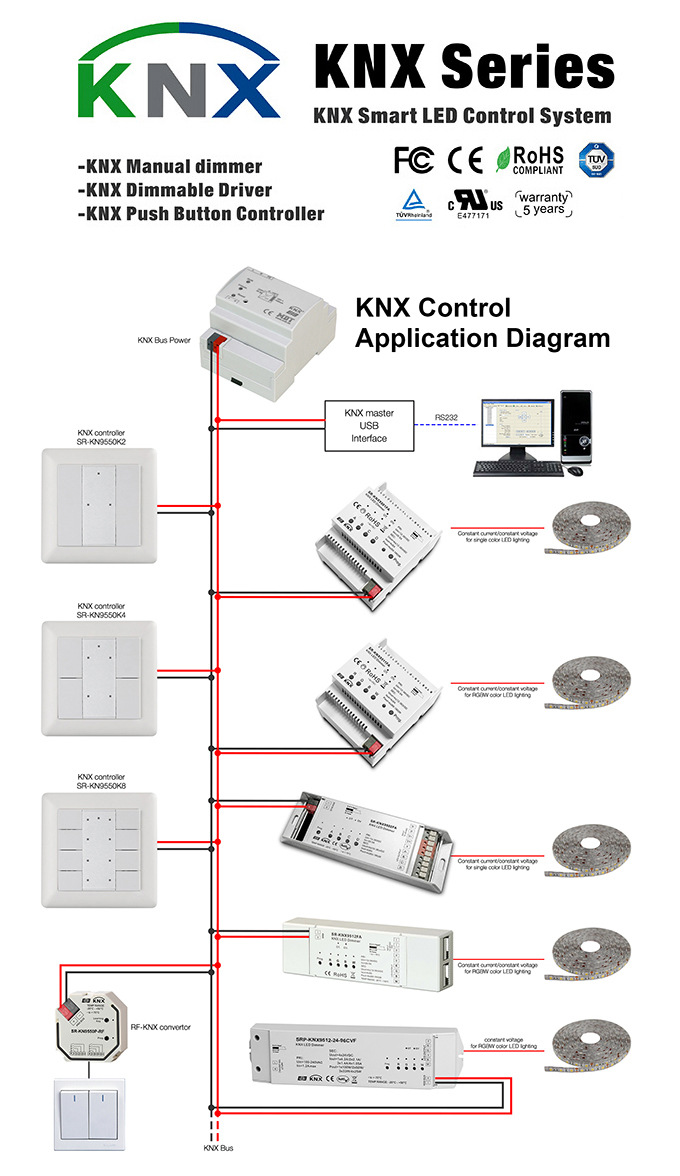 Sunricher is a member of KNX association who provides professional KNX lighting automation solutions and products that are KNX certified, which ensures full interoperability of its products with universal KNX system.
Click KNX Certified Products List from KNX official website to see all our KNX certified products.
Sunricher KNX series are designed in compliance with KNX protocol and can be compatible with KNX system, which are perfect for home and building automation. The KNX dimmers are available for single color and RGB/RGBW LED lighting. KNX is a great solution for home and building automation, and it enables users to control not only lighting but also shutters, roller blinds and room temperature while the KNX panel working with corresponding actuator. Each system allows up to 65,000 devices. The KNX controller send telegrams to the actuators via KNX bus or KNX gateway. The control panel is powered by KNX bus with low power consumption. Functions of any keys of the KNX panel can be freely configurable with ETS. The key features of KNX controllers with push buttons are as follows:
2-fold, 4-fold, 6-fold and 8-fold optional
White matt finish, bicolored status LED indicator (red/green)
Commission and project design with ETS4
Button function freely configurable with ETS4 by modifying product database VD4
Push Buttons can be parameterized for 1 or 2 button operation
Control via KNX bus
Switching and dimming of lighting while working with corresponding actuators
Operation of blinds and shutters while working with corresponding actuators
Room temperature control while working with corresponding actuators
Powered by KNX bus
Easy Connection Terminal without Screws
Please kindly visit New Product page or click the "New Product" area on home page to get Sunricher KNX dimmer and controller details.