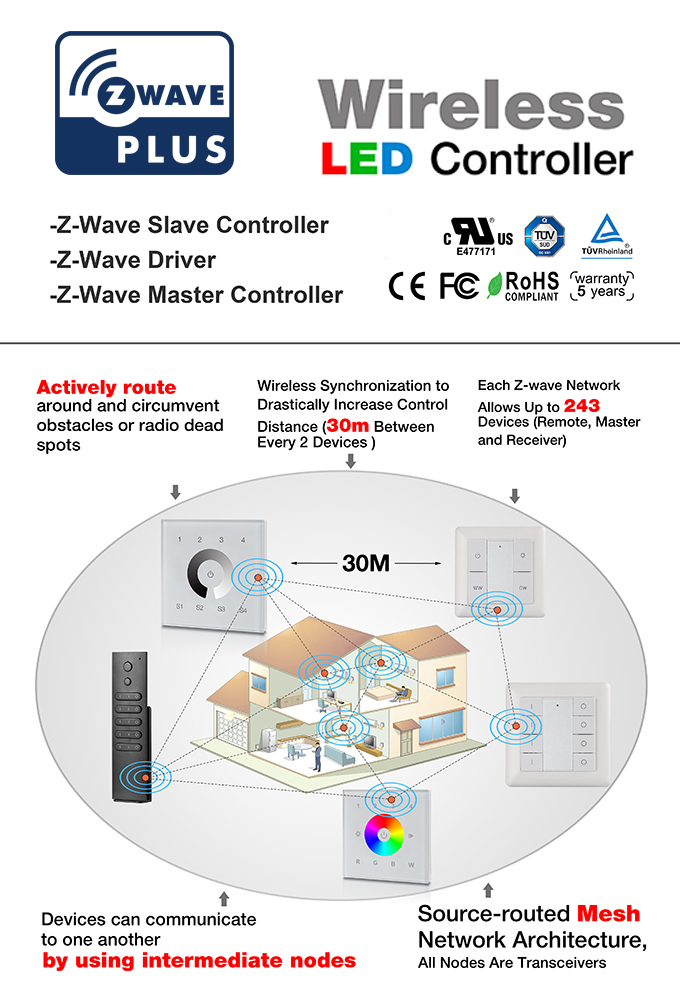 Sunricher is a Z-Wave Alliance member who provides professional Z-Wave wireless lighting control solutions and products that are Z-Wave Plus certified, which ensures full interoperability of its products with other manufacturers' that are based on the same standard and Z-Wave certified.
Click Z-Wave Plus Certified Products List from Z-Wave Alliance official website to see all our Z-Wave Plus certified products.
Sunricher Z-Wave home automation is wireless home automation system based on Z-Wave Plus protocol and mesh network which enable wireless synchronization to drastically increase control distance. The home automation system can be used for smart home lighting control. Each lighting control system (mesh network) includes Z-Wave master controller (network administrator), secondary controller and Z Wave dimmer (lighting device), and allows up to 232 devices. The master controller (gateway) enables to add secondary controller and dimmer to the network or remove them from the network. The dimmer switch can be controlled via master controller interface or the added secondary remote controllers. The remote is available in push button style and touch panel style. Only when the devices are added to the network, the remote can control dimmer with RF signal. Each dimmer is a node and performs as a z wave transceiver which receives and transmit signal, plus the mesh network, wireless synchronization can be achieved with a distance of 30 meters between every two dimmers. The advantages of Sunricher Z-Wave home automation are as follows:
Each Z-Wave System Consists of Primary Controller, Lighting Device and Secondary Controller
Source-routed Mesh Network Architecture, All Nodes Are Transceivers
Each Z-Wave Network Allows Up to 243 Devices (Primary, Secondary, Lighting Device)
Devices can communicate to one another by using intermediate nodes
Actively route around and circumvent obstacles or radio dead spots
Wireless Synchronization to Drastically Increase Control Distance (30m Between Every 2 Devices )
Various Full Touch Secondary Controller Available: Monochrome, Dual Color, RGB/RGBW
Various Push Button Secondary Controllers Available for Monochrome, Dual Color, RGB/RGBW
Lighting Devices Can be Controlled via Primary Controller (Gateway) Interface
Please kindly visit New Product page or click the "New Product" area on home page to view the latest Sunricher Z-wave system for smart home and home automation.