Sunricher Officially Became the 30th Plenipotentiary Member of DALI Alliance!
Jan 11, 2022 1:49:56 AM
Sunricher has been a Member of DALI Alliance for more than 10 years. Currently, it is a Regular Member of DALI Alliance, one of the 30 plenipotentiary membership of DALI Alliance worldwide, and a Member of DALI Alliance China Focus Group (DALI-CFG).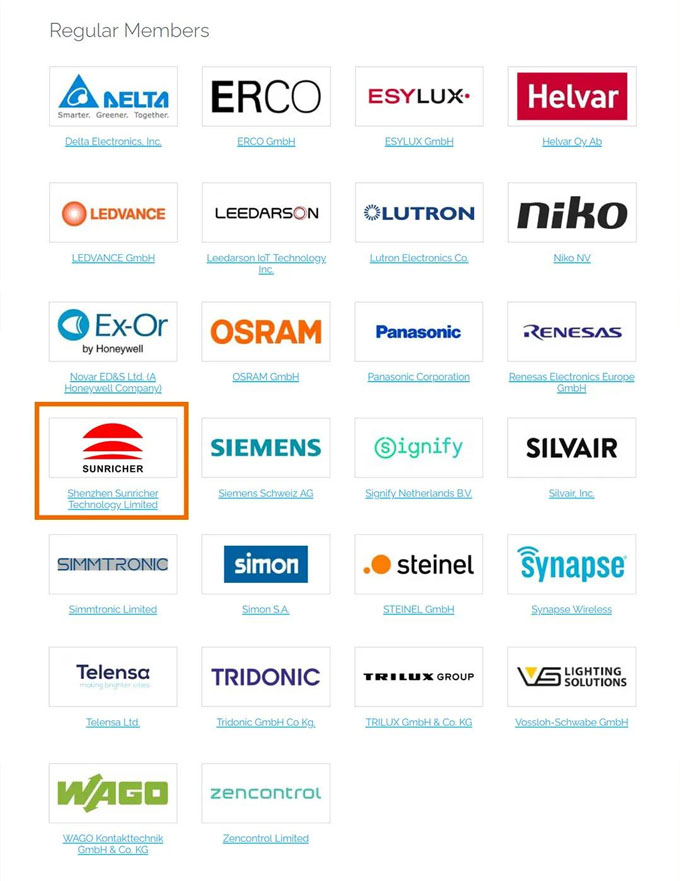 As a full member, Sunricher will participate in the work of the DALI Alliance Working Group and the China Focus Group and contribute to the development of test sequences, standards establishment and new specifications.
Sunricher will work more closely with DALI Alliance and other members to promote the high-quality sustainable development of the intelligent lighting industry, combine with its own technology and product research development advantages to provide partners with more comprehensive service and support.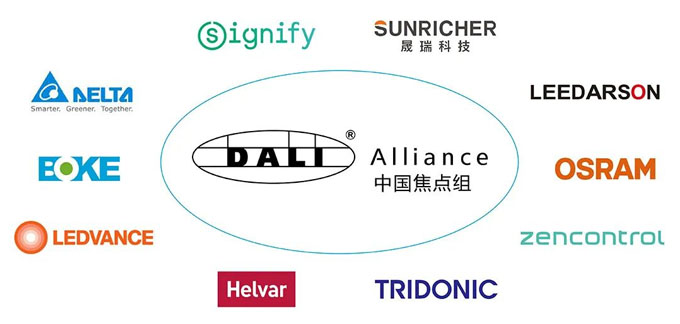 Sunricher and DALI
In 2008, Sunricher began to develop DALI dimmer and released the DALI control device with address display in 2010. Sunricher is the first company in China to release DALI DT8 series, but also the first to release products certified by DALI-2. As of December 2021, 76 DALI products passed DALI-2 certification, including 4 D4i sensors, which is the first company in China to release dual authentication sensors through DALI-2 and D4i. Over the years, DALI products from Sunricher has been widely used in many large projects, especially some landmark projects in Europe, and has accumulated more than ten years of project experience. Sunricher also has a number of DALI black technology: such as Dali dimmable and tunable with screen display that can manually set the address, and the switch panel can be added to the driver, which can complete the light intelligence of the small DALI control system, and the super compatibility of DALI products: never drop the address.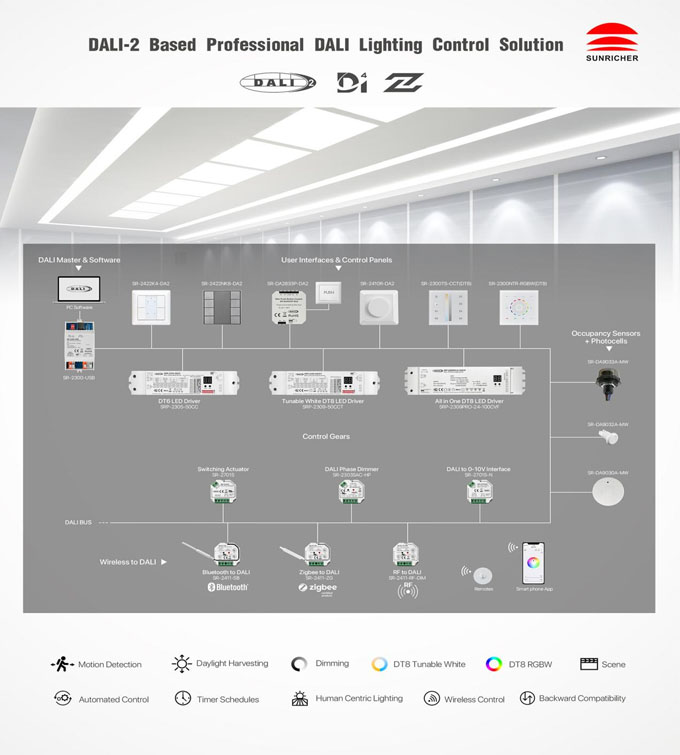 Sunricher has a complete DALI product chain, which provide a full range of application solutions, from hardware to software, including master control, bus power supply, panel switch, driver, DALI controller, sensor, signal amplifier, wireless/wired signal converter, relay module, panel coupler, etc., Sunricher has passed the UL, TUV CE, CCC, ENEC, SAA, ROHS and other high-end certifications. Sunricher DALI product category are rich. DT5, DT6, DT7, DT8 have mature and hot-sell product models, which has been recognized by a number of international first-line brands and has become their ODM and OEM first choice.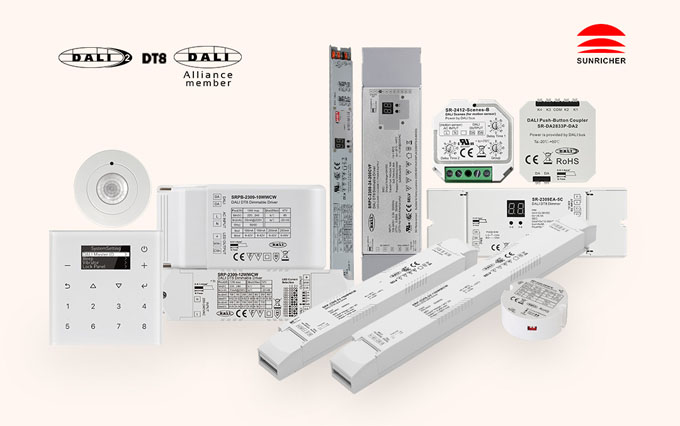 In addition, our strong R&D capabilities is worthy to trust and co-founders came from Huawei who independently develop intelligent lighting field, with DALI, DMX 512, KNX, 0/1-10V, Zigbee, Z-Wave, Bluetooth, Wi-Fi, RF and other related technology and project experience, has obtained more than 120 national patents, including 21 invention patents.
Full list of DALI Alliance members
Click here to check the Full list of DALI alliance Members.