CBA Regular Season Kicks off at Tecent Sports Studio
Mar 6, 2022 2:49:00 AM
The Beijing Winter Olympics just came to an end
CBA regular season kicks off
Watching sporting events during the pandemic
Is a good way to relieve boredom for most people
Under the highly competitive environment of broadcasting of Major sports events
It is the key to winning the audience about
How to unlock an immersive, interactive, high-definition user experience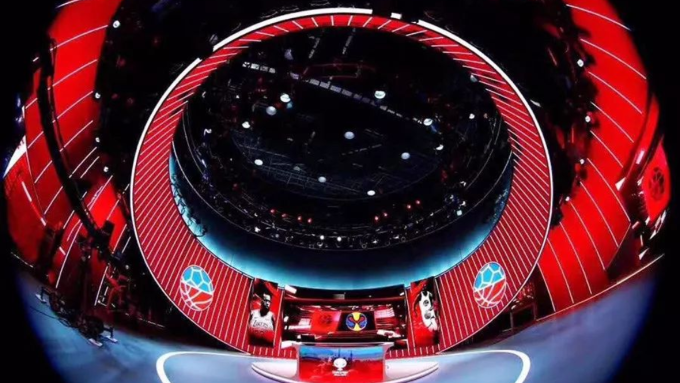 Tencent Sports has built a dedicated event live broadcast studio in Shougang Park and improved the network system, lighting system, hardware and other aspects, in order to stand out in the wave of competition and present more high-quality, high-definition and smooth live broadcast of exciting events.
Sunricher helps Tencent Sports Studio
New interpretation of intelligent lighting
Witness Tencent Sports Studio
Won the BPA International Best Lighting Design Award
and International Best Studio Award nomination
Tips:
BPA Awards hosted by NewscastStudio
(Broadcast Production Awards)
It is the most influential radio and television industry award in the world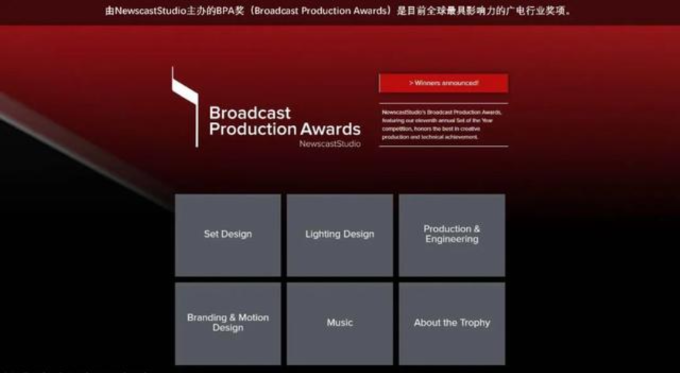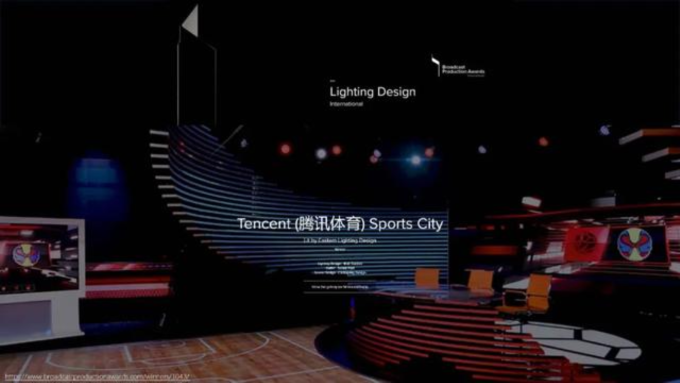 Part One
great visual design
eye-catching
More attractive
▲
242 square meters studio of Tencent Shougang
Designed by the visual effects design team of a well-known European studio, with the theme of "Aerial Stand", the large LED screen create a shocking experience from the perspective of the VIP room of the venue, and the small-pitch LED background wall group can present different arena images at any time.
Considering the broadcast application of different types of events, the full color gamut adjustable lighting design is adopted
Sunricher DMX intelligent lighting solution enables studio to meet the requirements for environmental color matching and visual presentation of different time periods, different content, and different forms of programs. It truly achieves color temperature and scene settable, and live broadcast shooting of professional cameras.
Part two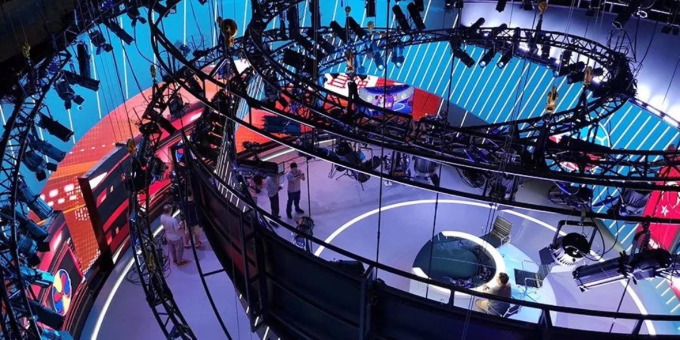 In order to fully transmit the background, game screen, data presentation, remote connection, wonderful playback and other pictures, and to mobilize the audience's emotions and visual senses well, it is required that the lighting control in each area must be very flexible! Sunricher DMX512/RDM decoder controls the studio LED RGB light box. It is easy to switch different scenes, so as to create different lighting atmospheres through the DMX master controller.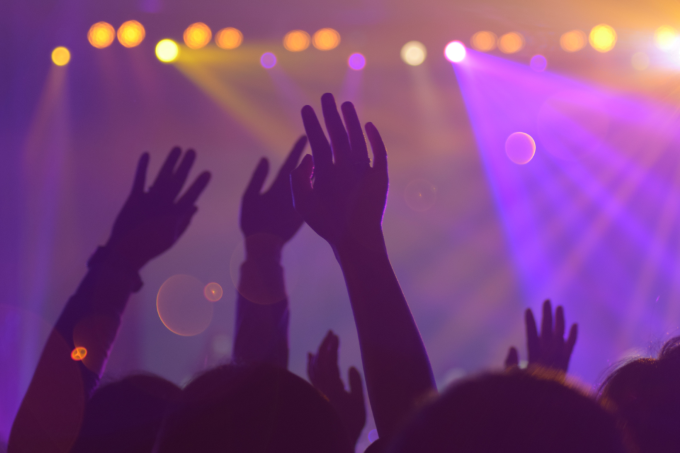 -- Starting from the comfort of the audiences, safety eye protection
Clients have higher requirements for the quality of lighting. Lighting is no longer for lighting, but to give live events a new life through smart lighting without affecting the current visual experience of the environment.Sunricher DMX intelligent lighting solution presents a harmonious lighting color temperature from the perspective of human visual comfort. Its intelligent lighting control products are perfectly adapted to various types of LED lamps, featuring high quality, stable performance, safety and comfort, making the distribution of light and dark reasonable, free of glare and light pollution, and fully demonstrating the effect of intelligent lighting in different time periods and spaces.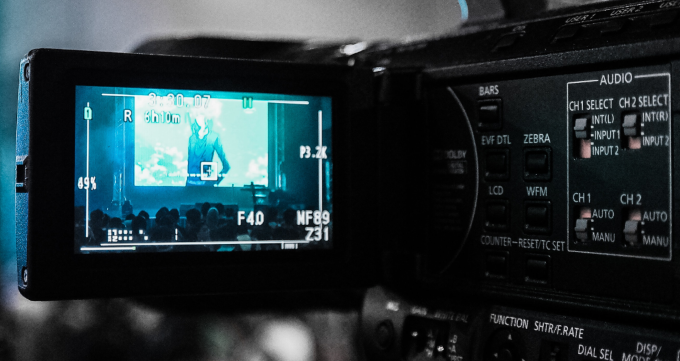 Sunricher DMX512/RDM decoder can set (1KHz-35KHz) PWM frequency, 16-bit/8-bit PWM resolution, really super smooth and fine dimming. Support live streaming shooting with professional cameras without flicker. And this technology is currently exclusive in the industry.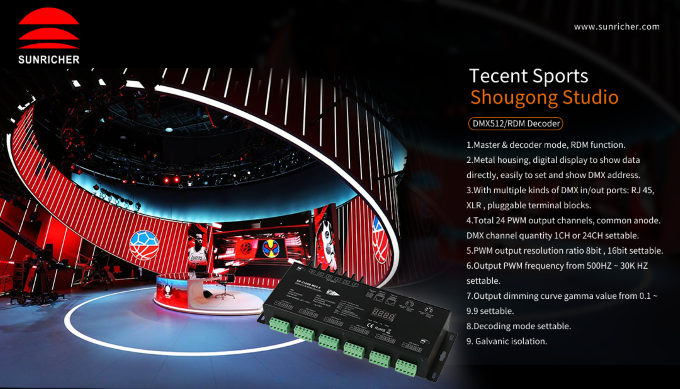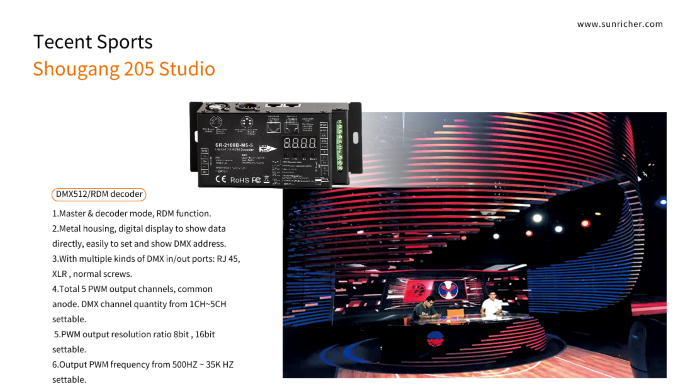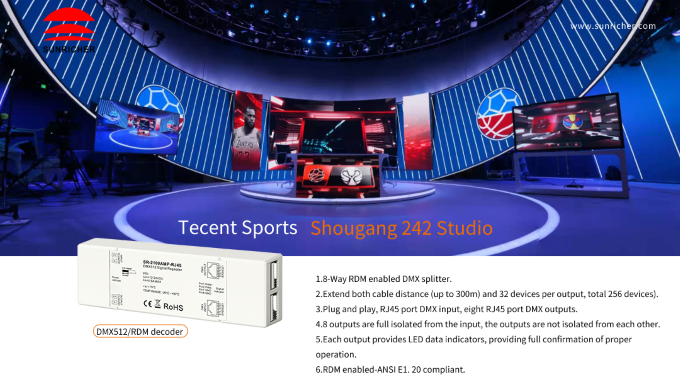 Sunricher DMX512/RDM decoder 35KHz ultra-high frequency is exclusive in the industry, which can support live streaming shooting of professional cameras without any flicker.It is widely used in large-scale major stages and studios, such as: China Central TV Studio, Zhejiang, Sichuan, Fujian and other local TV studios, Chengdu Universiade venues and and so on.